Your Choice for Digital Photo Printing in Toronto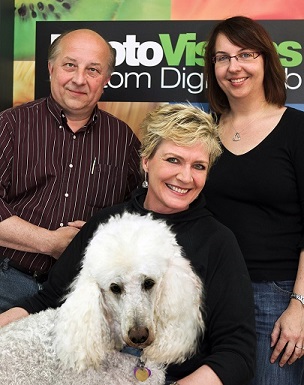 At
PhotoVisions Custom Digital Lab
, we've supplied high quality
digital photo printing and photo processing services in Toronto
for close to 30 years.  Our photo printing services cater to artists, professional photographers, individuals, and businesses of all types. A family owned and operated business,
PhotoVisions
was established by Roman Puteris in 1981 and later joined by his wife Daina in 1986.
Tango is our office poodle. He comes to work every single day and is as much part of the team as anyone!  He's constantly busy; either sleeping, screening new clients, or flirting with his girlfriend Jewel – a German Sheppard just down the street.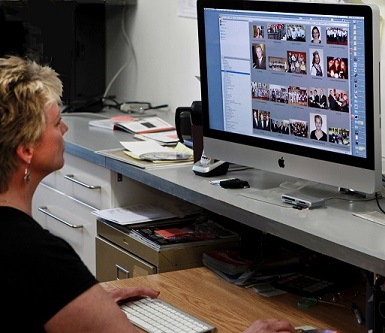 We See the Details You Care About. We're Artists Too!
At our digital photo printing and photo processing lab in Toronto, we bring a unique advantage to our work  – we're both artists.
Not only is professional photography our mutual passion, Daina has also finished studies in graphic art and design.  Our interests and training give us the unique advantage to see the details in our work that artists and photographers care about. The result? Nothing but the absolute best: Your orders processed with the tough scrutiny and critical eye of artists committed to quality and detail.
When you trust PhotoVisions professional photo lab with your next project, mediocrity is never an option.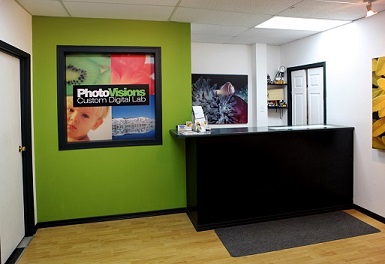 Honest, Reliable Service
Our
digital photo lab in Toronto
has been operating out of the same location since day one. Developing long-standing relationships with our clients is very important to us. Because of our consistent dedication to quality and reliable service, we're proud to say that repeat clients make up the majority of our customer base.
We learn a lot by interacting with you, and listening to what you have to say.  Our services have evolved with your needs, and that is why about 8 years ago we made the switch from film to digital photo printing and processing.  Come experience our great service for yourself. We're sure you'll be back for more.
Working Closely with You for the Best Photo Printing Results
When you leave our digital photo lab in Toronto we want you to be 100% pleased with your order.  We'll do whatever it takes – we'll even invite you into the lab so we can fine-tune the details of your project together. At PhotoVisions, you can rest assured that your satisfaction is our top priority.
Fast Turn-Arounds & Rush Service Available
We know waiting is never fun. At PhotoVisions professional digital photo lab, most projects have a fast turn-around time of just 3-5 days. We remain loyal to our regular clients, so if they need something tomorrow, we'll do our best to get it done! Rush services are also always available.  We are certainly flexible and try to accommodate everyone.
We're Always Just a Phone Call Away
We make an effort to be available to you when you need us, even outside our business hours.  We'll do whatever it takes to make sure the job gets done!
We're often not far from the photo lab and constantly on-call. In fact, most of our regular customers have our cell phone numbers if they ever need to reach us right away.  We can also accommodate clients who can only come in on weekends or after 6pm.
If our store hours don't match your availability, give us a call and we'll be happy to work something out.